Zadara Announces New U.S. Distribution Relationship with Promark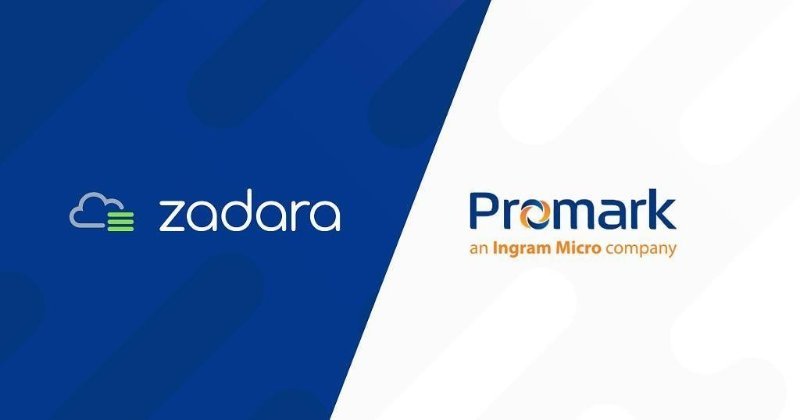 Channel Partners Now Have the Ability to Offer Customers Enterprise Storage-as-a-Service
IRVINE, Calif., May 13, 2019 (GLOBE NEWSWIRE) — Zadara Storage Inc., the pioneer in enterprise storage-as-a-service, today announced it has signed a distribution agreement with Promark Technology, a premier, U.S.-focused value-added distributor (VAD) and wholly-owned subsidiary of Ingram Micro Inc. (NYSE:IM), the world's largest technology distributor and global leader in IT supply chain and mobile device lifecycle services.
Under the new agreement, Promark will distribute Zadara's enterprise storage-as-a-service offerings to its channel partners in the U.S. Zadara provides enterprise NAS and SAN service with NFS, CIFS/AD and iSCSI interfaces, dual HA controllers, dedicated high-performance drives and enterprise-class storage features — including snapshots, replication, thin provisioning, encryption, and more. Data is stored on dedicated hardware for increased privacy and quality of service, and protected with in-flight and at-rest encryption, including user-managed keys. With Zadara, users get more than enterprise-class storage. Zadara comes with 24/7/365 live support, proactive system management, periodic non-disruptive hardware upgrades included, and a 100%-uptime guarantee.
"Promark's focus on emerging technologies and customer service matches our core business value and principles. And their longstanding relationships with leading solution providers will help accelerate our channel strategy," said Roland Serna, vice president of channels and alliances for Zadara.
"We're pleased to add Zadara to our roster of world-class technology partners that provide solutions to meet the most demanding needs of our customers," said Jeff Brown, president/GM, Promark. "With its combination of enterprise functionality and a pay-as-you-go model, Zadara represents an ideal solution for both resellers and customers."
More information about Zadara is available at www.zadara.com.
About Promark Technology
Promark Technology, an Ingram Micro company, is one of the premier value-added distributors (VAD) in the United States. Promark's core technology focus is distributing data storage and virtualization products and solutions through a two-tier distribution channel to value added resellers (VARs) and system integrators. Promark leverages its direct relationships with world-class technology partners to provide solutions that meet the most demanding needs of its customers. Promark also offers a Public Sector Business Program that helps resellers navigate the government selling process and expand the reach of their Business. The program provides authorized resellers the ability to leverage Promark's GSA Schedule to market and sell products and solutions into both federal government and state and local organizations. Promark offers professional services in application integration, backup and recovery, network optimization, storage implementation, and disaster recovery. To learn more about Promark Technology call (800) 634-0255 or visit www.promarktech.com.
About Ingram Micro Inc.
Ingram Micro is the world's largest wholesale technology distributor and a global leader in IT supply chain and mobile device lifecycle services. As a vital link in the technology value chain, Ingram Micro creates sales and profitability opportunities for vendors and resellers through unique marketing programs, outsourced logistics and mobile solutions, technical support, financial services, and product aggregation and distribution. The company is the only global broad-based IT distributor, serving approximately 160 countries on six continents with the world's most comprehensive portfolio of IT products and services. Visit IngramMicro.com.
About Zadara
Founded in 2011, Zadara offers agile, secure enterprise cloud storage as a fully managed service, with a 100%-uptime guarantee and consumption-based pricing. Any location, any data type, any protocol. Zadara offers resource isolation, exceptional security, and management control. Get Zadara on premises and through cloud and colocation providers. More information can be found at www.zadara.com or follow the company on LinkedIn and Twitter, like on Facebook or subscribe on YouTube.
View all Press Releases →