ExtraHop
Why ExtraHop  ?
All technology and business transacts on the network, but network data alone is insufficient. To mine the richest source of real-time IT and business insight, you need a plug-and- play stream analytics platform—something that's never been done. Until now.
---
About ExtraHop

 :

Jesse Rothstein and Raja Mukerji founded ExtraHop with a bold vision: help IT Operations teams thrive despite exponential increases in IT complexity. The spread of virtualization, cloud computing, agile development practices, and service-oriented architectures made traditional monitoring technologies obsolete. A new, simpler approach was required that could provide visibility into these complex, hyperdynamic environments.

During their time as Senior Software Architects at F5 Networks, Jesse and Raja played key roles in transforming the load balancer into a new device category known as an application delivery controller, creating a new market in the process. Aware of the massive amount of information that was passing over the network, they realized they could harness gains in processing power to extract valuable real-time insights from this data in motion. Thus, in 2007, the ExtraHop platform was born.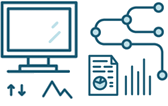 The ExtraHop platform transforms unstructured packets on the network into structured wire data, a new source of real-time business and IT insight. Hundreds of enterprises around the world have adopted this technology to proactively manage application performance, optimize their infrastructure, identify security threats, and analyze business operations.